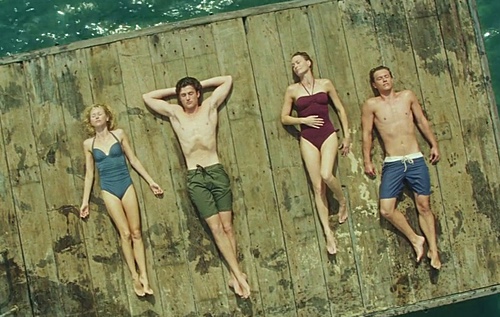 Adore (2013)
★★ / ★★★★
Lil (Naomi Watts) and Roz (Robin Wright) have known each other since they were kids. They grew up along the ocean and decided to stay there as adults. They are so close, their sons are also best of friends. However, when Tom (James Frecheville), Roz' son, catches his mother walking out of the guest room, where Ian (Xavier Samuel), Lil's son, is staying at the time, with barely any clothes on, the dynamic among mothers and sons are pushed into a sudden shift. Tom and Lil become lovers, too.
"Adore," based on Doris Lessing's novella "The Grandmothers," is actually a nice surprise—though the picture tackles a subject that can be considered taboo, the screenplay by Christopher Hampton treats the situation and the characters very seriously. The question is not so much whether or not the relationships will survive till the end but which person gives more love and is willing to sacrifice more in a friendship. That is something fresh.
I had my reservations. I expected it to be some sort of sexy skin flick where women of a certain age get their way with young men. But it is not like that at all. The only thing that is sexy about it is how gorgeously it is photographed by Christophe Beaucarne. The interiors of the houses are so spacious and modern but lived in at the same time. The exterior shots, especially ones that take place at the beach, look like the best Hawaiian postcards. Just about everything about the cinematography is inviting—even when it goes for the close-ups of the aging Lil and Roz. We wonder what they are thinking. Watts and Wright appear very comfortable in their own skins and I think that is key in playing characters like Lil and Roz.
The weaker links are Samuel and Frecheville. While I did buy their performances during their characters' late teen years, I found them sort of awkward when they come to a point where they must portray men in their late twenties. They just look so young, so boyish that I was taken out of the gravity of what their characters are supposed to be going through. Perhaps casting actors who look a little older to play teenagers might have been a better decision because the bulk of the meat is in the latter half when repercussions are due.
There is a running joke in the film that Roz and Lil are so close that they are often mistaken for a lesbian couple. While funny on the surface, perhaps there is something to that. The images on screen made me wonder about the book. Are Lil and Roz subconsciously in denial of their sexual attraction to one another? Is being with one another's son a way to diffuse or channel or resolve their romantic feelings for each other?
Directed by Anne Fontaine, "Adore" leaves us something to think about even though the content is not that relatable. In some instances, it works against itself completely. There were moments when I thought, "Who cares?" All four seem to be living in a suspended fantasy that no one wants to leave—deep down at least. Still, I am giving it a mild recommendation for the leading actress' performances and beautiful seaside imagery.