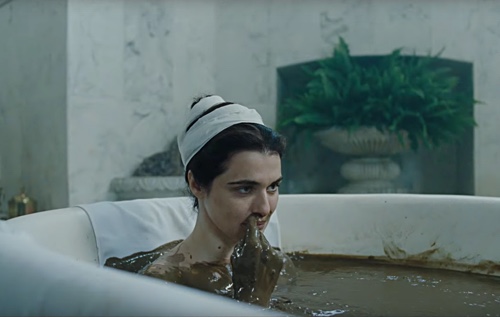 The Favourite (2018)
★★★ / ★★★★
As an admirer of director Yorgos Lanthimos' palate for the bizarre, I found the period comedy "The Favourite" to be impressive only during the second half, when fortunes have been turned upside down and inside out. It is then we get a chance to observe characters attempt to wriggle themselves out of very sticky situations, to scoff at them, to laugh at them, to consider their unhappy fates to be both ironic and well-deserved. It is clear, as he has shown in his previous pictures, that Lanthimos' strength lies in looking at human nature through fractured lens and within those tiny crevices is a chance for us to see ourselves and ponder over the world around us.
The first hour is a waiting game as the initial moves of a long chess game are executed. I found them not uninteresting but not superbly inspired either. I liked the casting of Rachel Weisz as Lady Sarah, in charge of governing state matters given that Queen Anne (Olivia Colman) is almost always plagued with illness, and Emma Stone as Abigail, Lady Sarah's cousin whose family has fallen on hard times and so she asks for employment within the estate. Weisz and Stone navigate the barbs of the warring cousins with a certain grace despite the ugly and delicious schemes. Meanwhile, Colman plays a queen who is so pathetic nearly every time we see her and yet the seasoned performer hits a different and fresh note with vigilance and purpose.
Despite the stellar performances, however, I found the machinations of early plotting to be rather generic. For instance, Lady Sarah's nature of possessiveness and thirst for maintaining power is established right from the moment we meet her. And so when someone younger than her, certainly more likable, moves into the palace, her response is predictable. The same goes for the smart new resident who yearns to climb the social ladder. The standard writing is alleviated by performers who find ways to wrinkle the vanilla characterization. And take away Lanthimos' proclivity toward awkward camera angles and habit of lingering at a shot for an extra second or two—sometimes ten—the content, at least during the first hour, is not all that special. The exposition is something I have seen from countless period films. The main difference is that the characters make no qualms about expressing their most inappropriate thoughts.
But when the consequences of Lady Sarah and Abigail's competition is finally brought out to light, it becomes wonderful entertainment. The audience is not required to feel sorry for any of the players. However, we must understand them in order to have a more robust appreciation of double-edged ironies. With the exception of one figure, everyone else is proven to bite off more than what they are able to chew. They are convinced they are so intelligent and so experienced in navigating their way through labyrinthine gambles, the joy comes from seeing their big plans explode in their faces. Lanthimos, with his penchant for well-timed close-ups, ensures to capture the most minuscule facial expressions, at times in succulent slow motion.
The darkly funny farce "The Favourite" might have befitted from bolder screenplay decisions right from the get-go. One can argue that because the content is already for an acquired taste, it might have been stronger work overall had the writers been kind enough to spare us the usual motions and go straight for the jugular, to splash blood on posh, royal costumes.