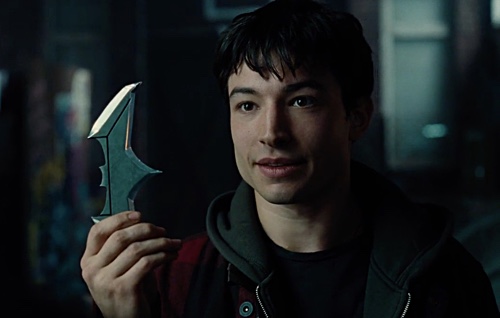 Justice League (2017)
★★★ / ★★★★
Although not as polished, lean, and emotionally satisfying as Marvel films that have found strong footing in terms of establishing a specific tone while juggling a team where every member stands out, Zack Snyder's "Justice League" is a step in the right direction. Perhaps the most important change in this expansion of the DC universe is the decision to make room for moments of levity. What results is a superhero picture that is actually enjoyable rather than one that is drowning in its misery, grim look, and would-be philosophical musings about what it means to be a protector of mankind.
Fans of the genre will likely check in for the action, but I found that one of the film's strengths is when two characters simply connect either by sharing memories or challenging one another's ideals. An example of the former involves Lois Lane (Amy Adams) being visited by Martha Kent (Diane Lane) at the Daily Planet and eventually the two women touch upon how Clark Kent's death (Henry Cavill) has changed their lives. Neither is as strong as she thought she would be or could be, making their grieving process believable and relatable. As for the latter, at one point Batman (Ben Affleck) and Wonder Woman (Gal Gadot) find themselves at odds in terms of how to use a powerful but dangerous technology. A clash of ethics turns personal real quick and suddenly we see them as Bruce Wayne and Diana Prince rather than their counterparts. It goes to show that with the right script exploring the right themes, this universe has a chance to become compelling.
The villain requires more work to be interesting, especially when it is a CGI character. Although the goal of Steppenwolf (voiced by Ciarán Hinds) is clear, hoping to reduce the planet to its primitive state by acquiring three energy-filled boxes hidden across the planet, it is yet another antagonist who wishes to end the world. It is a oft-tread path and at this day and age, having so many superhero films come and gone, it is not a good enough motivation. The best modern superhero films of the genre offer villains that function within the morally gray. The most recent example is Adrian Toomes/Vulture (Michael Keaton) in Jon Watts' earnest and energetic "Spider-Man: Homecoming." The man simply wishes to provide his family a good life. We relate to his goal; we may or may not relate to the path he chooses to take to get to that goal.
New faces of the team—The Flash (Ezra Miller), Aquaman (Jason Momoa), and Cyborg (Ray Fisher)—are given moments to shine outside of their specific personalities. Although none of them are fully realized characters yet, they command enough intrigue that I wish know more about them in future installments. Out of the three, Miller is most surprising given my knowledge that the performer specializes in playing extreme characters: people who are psychologically out there, some of them downright disturbed. For Miller to deliver a character that is fun and someone with whom one wants to be friends with, Barry Allen is a most welcome addition to his oeuvre. I can't wait to see where he will take the character.
"Justice League" offers just enough entertaining action sequences. Although they tend to suffer from diminishing returns, especially because the giant CGI bugs are utilized too often (all of them looking the same with zero personality does not help), these scenes create a steady, accessible rhythm with enough camera acrobatics to create some level of urgency. A fresh perspective is that although Batman is the leader of the pack, he is perhaps the most vulnerable physically since he has zero superpower. The material milks a couple of jokes out of this curious situation.